Dear ICN Community Parents, Assalamualaikum
We hope and pray that you had a wonderful summer vacation with family and friends! We ask Allah to empower us to do our best to educate our children. It is with much enthusiasm, preparation and determination that our Academic Co-Chairs, teachers, TAs, and staff members invite you to join us on embarking upon a journey towards a successful and focused year on learning, InshaAllah.
The first day of school will be Saturday, September 17th, 2016 Insha'Allah. Register soon, limited seats:
Registration link: http://icnschool.org/2016-2017-registration/
In sha Allah we will email the student registration details (student ID, classroom # & section information) on September 10th.
Loving Islam: We have created a positive, encouraging environment that enables students to develop a deep connection with Allah and a strong bond with their Muslim brothers and sisters, while enjoying the learning process. With gym time every month, fun field trips, prizes and incentives,and the use of creative learning tools, we aim to have our students exit with beautiful memories, and an exceptional connection with their faith.
Learning Islam: With a strong focus on Quranic Studies, Islamic Studies, Arabic, and more, we offer a curriculum deigned to instill belief and faith in our students, and to teach them the importance of gaining knowledge throughout the course of their lives.
Living Islam: Our recently added subject known as "Connections", has been specifically developed to empower students to act and live according to their faith. This program engages students in drawing connections between texts and practical application. The units covered include themes such as character, confidence, health, and service- packed with service projects, crafts, research, and much more.
Special Needs Program: We are honored and blessed to be a MUHSEN certified school, Alhamdulillah!
Parents can register online. More details here.
Youth Program: For students that complete 7th grade, we offer the 3 year Youth Program, in which students continue their educational experience with Seerah, Islamic Topics, and Quranic Studies, along with tailored discussions and sessions based on the needs of the youth. Our goal is to have a safe space for students to grow spiritually and gain a profound appreciation for brotherhood and sisterhood.
Parent Programs: This year, we plan to offer informational sessions for parents in an effort to engage parents with the academy.Tentative sessions will include, Parenting, Islamophobia in Schools and more. Stay tuned.
Surah Club returns!: Our competitive surah memorization club will commence once again this year! Keep an eye out for the list of surahs per grade level, as well as test dates, prizes, and more details.
We can't wait to get started inshaAllah. We look forward to working together to help our students Love, Learn, and Live Islam!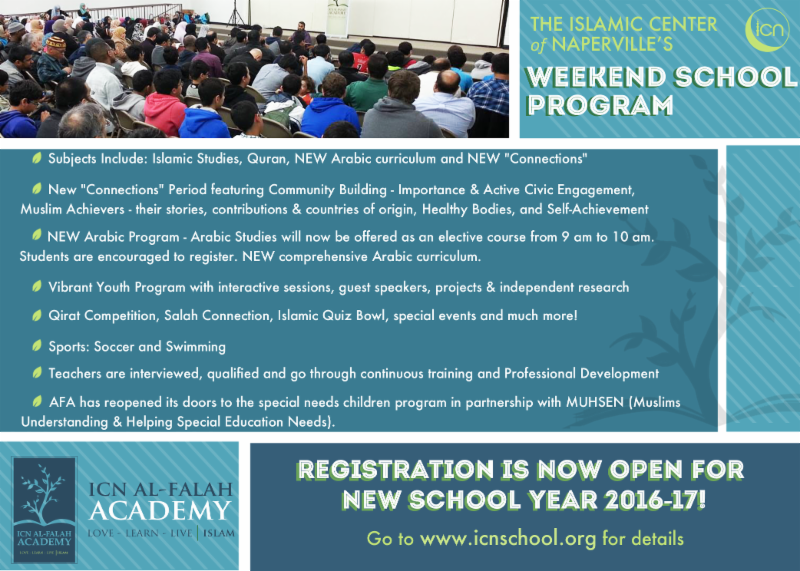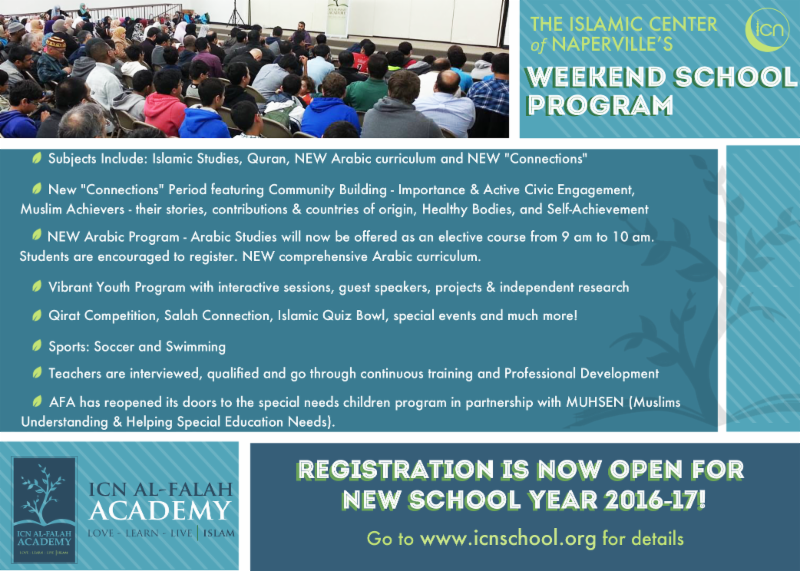 JazakAllah khair
Sincerely,
Kashif Fakhruddin
ICN Al-Falah Academy Principal
Love, Learn, Live Islam
http://icnschool.org/wp-content/uploads/2014/07/ICN-AFA-Logo-300x137.png
0
0
Admin User
http://icnschool.org/wp-content/uploads/2014/07/ICN-AFA-Logo-300x137.png
Admin User
2016-08-28 12:02:16
2016-08-28 12:05:01
Welcome to 2016-2017 School Year