Registration for next year's ICN Al Falah Academy is now open.
Please follow this link to register existing students : http://goo.gl/JF7fD3
Please follow this link to register new students: http://goo.gl/qoLBga
You have to pay registration fees of $100 per family.
Seats are not guaranteed if any class is full.
We will inform you via email once your registration has been processed.
Full Tuition fees will be due on the first day of school.
Tuition Fees includes books and lunch
The Fee structure is defined below
1 Student – $395
2 Students – $740
3 or more Students – $1000
There will be a separate ID Card Fee of $5 per student.
Dear Parents, Assalamu Alaikum
The Graduation Ceremony is THIS Saturday, May 9th. Alhamdulillah, we have an exciting program planned – informational and inspiring for the parents and a fun event for the kids. Please follow the schedule below and see flier for more details.
Please note that the last day of school will also be THIS Saturday, May 9th.
Registration for next year's ICN Al Falah Academy is now open ONLY to existing students until May 15th. Please register before then.
Please click
HERE
to
register
.
We are pleased to announce a new Arabic program for the next academic year – details will be sent soon.
Graduation Ceremony Program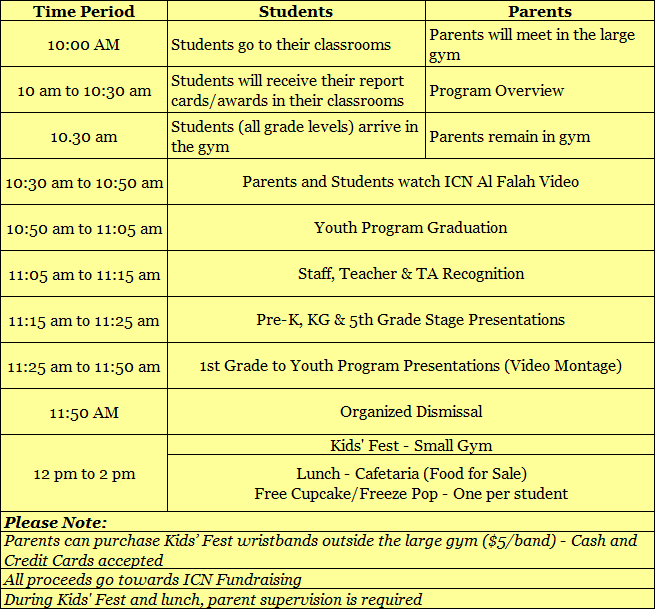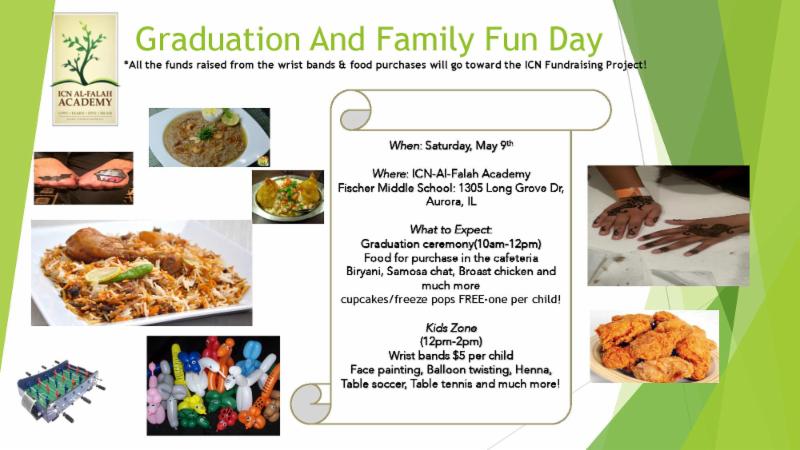 As-salaamualaikum,

We are looking to end the academic year for the ICN AFA youth program with a bang inshaAllah! This week, have two events coming up that our youth just cannot miss. There will be an immense value in it for them.
Friday night, May 1st: ForeverYoung. It's ok if your youth program child is under 14.
Saturday May 2nd, during AFA hours: Be That Support.
Please see the attached fliers for both events.
Since the Saturday event is during school hours, attendance is mandatory.
I've been working closely with our new Youth Director, Br. Tariq Musleh on these events and other fronts.
Our immediate focus is these events which I'm excited about. Please encourage your child to participate.
was-salaamualaikum
Naeem Hussaini